The College Aid Award Letter
When I talk to parents about college most have 2 concerns.  The first is their child getting into the college they want to go to.  Once they've gotten in, the second is their concern about paying for it.
8 out of 10 times the second is actually the bigger concern.  The 2 out of 10 are military families that aren't concerned about paying because they have the GI Bill available for a single child who is looking at either a state school or a yellow ribbon school.
Even for those planning to use the GI Bill, the financial aid award letter is a key document.  It determines how much you'll pay or how much the GI Bill is worth.  Unfortunately, these are not always straightforward or easy to understand.  The school's goal is not to allow you to make easy comparisons with other schools.  It's to get you to commit to them.  Let's dive into what you should look for and be aware of.
What is a college aid award letter?
A college aid award letter is a document that outlines the financial aid package offered to a student by a college or university. It typically includes information about costs:
Tuition
Room
Board
Fees
It will also have information on aid:
Grants
Scholarships
Loans
Work-study opportunities that are available to the student
You'd think it'd be easy based on this to understand and compare award letters.  Unfortunately, it's not.  The Government Accountability Office just released a report regarding College Financial Aid Offer (link).
From their webpage:  "According to best practices, colleges should estimate the net price—how much a student will pay to attend that college—by deducting only grants and scholarships from all key costs like tuition, books, housing, and meals. But about 91% of colleges understate or don't include the net price in their offers." [emphasis added]
To decipher a college award letter, here are some things you should know to be able to make comparisons and avoid buyer's remorse.
Be aware of "front-loaded" award letters
To compare apples-to-apples between school, you need to ensure you have the 4-year net cost for each school.  One thing some schools do to entice you is to provide additional scholarships or grants in the first year to get you to commit.  When reviewing any aid, ensure you know if the aid is available for that year or for all years.
What are the criteria for renewable scholarships?
Many scholarships are tied to a GPA or possibly even a major.  Make sure you understand what the requirements are each year.  Also, you may want to check the graduation rate for the school to see if most students get done in 4 or 5 years.  If the latter, you may want to see if the aid is available in should your child not graduate in 4 years.
Is tuition locked for all 4 (or 5) years?
Some schools lock tuition based on freshman years while others increase it each year.   Make sure you understand which your school does.
How much is "gift aid"?
One of the things schools often do it roll work study and loans into the cost calculation.  This is to make the net cost look smaller.  The problem is neither of these is truly aid.  This is self-help.
A school may send out the first year award letter and say total due is $15,000, but they've included $5,500 of Federal Student loans that will need to be paid back.  Total cost was actually $20,500.
Some schools will even send out net cost bills showing $0 because they've included Parent-Plus Loans of 10, 20, or more thousand dollars.  Again, this money needs to be paid back.
How much will loans cost you?
I've written about loans and how much is too much here (Link).  The general rule of thumb is don't take total loans that are more than the student is expected to make in their first year of work.
You should also estimate payments.  A rough estimate for every $10,000 in loans, it'll cost be $100-125 per month over a 10 year payment period.  Finaid.org also has a good calculator (link).
What is the net price for all for years?
To compare apples-to-apples, I suggest building a simple spreadsheet and taking the information from the award letters to be able to see your true net cost for each school.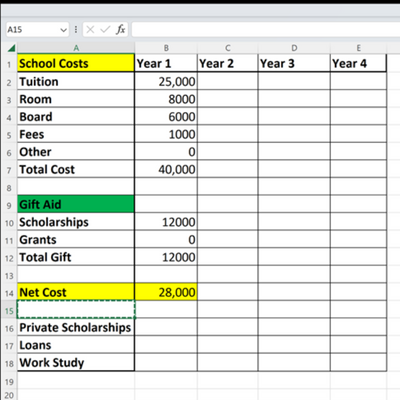 Additionally, the Consumer Financial Protection Bureau (CFPB) has a tool (link) on its website for assessing financial aid award letters.
Wrap Up
Remember, college is big business.  The school's goal is not to help your family make the best decision.  Their goal is to get students into slots to meet their expenses.  Understanding how they do that is critical to be an informed consumer.